Google Ads Quality Score measures your relevance on a one to ten scale. Ignoring it can be a costly mistake. Andrew, one of my customers learned that the hard way.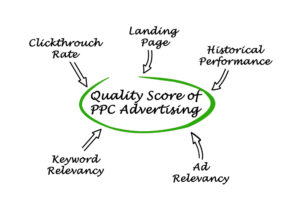 More Money but No Relevance
The first time Andrew called me; he was frustrated with his Google Ads Account. There were few clicks, and no sales. Every time he did a search, he found his ad near the bottom of the Google listings.
Andrew claimed he had raised his click bid to from $2 to $5, but never got near the top of the listings. Then his real frustration came out. "I don't know what's wrong with Google, I'm offering $5 bucks a click and my competitor (a friend of Andrew's) is only offering $3 a click." Exacerbated, he added, "He's always at the top of the page, and I'm at the bottom. I'm willing to pay more!"
By now I was knowingly nodding my head; Andrew had forgotten about Relevancy—one of the most important components of Google Ads.
The Real Value of Relevance
Relevance is the usefulness of your ad relative to the user's search. Andrew's ad was very general, while his competitor's ad mentioned the product users were searching for and provided key differentiating features and a call to action.
When it comes to relevance, remember that Google only gets paid when your ad is clicked. So, if 100 people see your ad but no one clicks, Google won't make a cent.
Simply put, the competitor's ad was more relevant than Andrew's ad, so Google believed it would get more clicks if it were higher in the listings. More relevant ads will often find themselves above higher paying competitive ads because more clicks mean more money for Google.
Google Ads Quality Score
To help guide us toward more relevant ads, Google provides us with a 'Quality Score' for each of our keywords. The Quality Score is Google's opinion on how well your keyword matches what's in your ad and what's on your landing page. You're given a one to ten rating, 1 meaning poor quality and 10 meaning very high quality.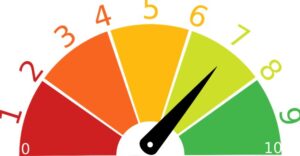 Andrew had a Quality Score of two, poor. By working on his quality score components Andrew's reached scores between 7 and 10, reduced his cost per click 20%, rose to higher ad listing positions, and received a lot more sales.
Quality Score has three components:
Ad Relevance—How closely the keyword relates to your advertisement.
Landing Page Experience—How useful your landing page is relative to the keyword.
Expected CTR (Click Through Rate)—How likely users are to click on your ad when shown with the keyword.

All three components, especially 'Expected CTR,' use historical data. This means that as your clicks increase, your quality score will likely begin to improve too.
How to Keep Ads Relevant to Your Keywords
The best way to maintain relevance is to keep your keywords grouped by specific themes. If you have a group of keywords that have a common theme, put them together in an Ad Group. For example, a home renovation company might group keywords by type of renovation: basement, kitchen, bathroom, etc. All the basement related keywords go in basement, kitchen related keywords go in kitchen, etc.
All the ads for the basement ad group will contain the word 'basement,' kitchen ad group ads will contain the word 'kitchen,' etc.
By using the ad group name in the ad, the ad becomes relevant to user searches.
Landing Pages
Each ad group sends the user to pages related to the keyword in the ad group. The basements ad group goes to a basement landing page, kitchens to a kitchens page, etc.
Expected CTR
This is the trickiest Quality Score component because it relies heavily on how many clicks your ad is getting. It uses Click History.
Troubleshooting A Low Quality Score
If your quality score is below five, it's a good idea to look deeper at relevance.  Each Quality Score component consists of three ratings: Below Average, Average, and Above Average. A low quality score probably means one or two of these components is 'Below Average.'

Here's how to improve a below average rating in each component:
Ad Relevance: Make sure the keyword is in the first or second headline of the ad.
Landing Page Experience: See how well the promise made in the ad is fulfilled on the landing page.
Expected CTR: This is the toughest one because Google is pretty vague on what it means. It's been my experience that if I can get the Landing Page Experience and Ad Relevance to Average or Above Average, the Expected CTR slowly follows.
Summary
If your keywords are grouped by theme, and you use the theme name in your ads, you will increase your ad relevance. Check your landing page for the keyword or variations of it. These simple tactics will help keep your ads relevant and higher in the listings.