Customer Reviews are more than just a huge compliment. They offer social proof to potential customers that your product or service is worth the purchase, and they help with your Google rankings.
I've seen several of my customers move from internet obscurity to the top of search results because of positive reviews on their Google My Business listing.
Customers See Success After Asking for Reviews
One of my customers gets more than 75 reviews a year (actually in six months, it's a seasonal business) and has a 4.8 star rating out of five. She runs a bike tour and rental company in downtown Ottawa, and at the end of each tour, she asks her customers to review her business if they enjoyed the tour.
Another customer gets close to 150 reviews a year and maintains a 4.7 star rating out of five. When their customers receive a follow-up text on their phones for their next appointment, it is accompanied by a request for a review, and a link to where that review can be written and submitted.
Both customers consistently appear in the 'map pack' on Google's search results, and both receive more than 40% of their sales leads from their Google My Business listing.
How to Get a Customer Review – Ask for it!
Reviews make a difference! It's too bad every satisfied customer does not automatically go to Google and post a review. Instead, we must ask for reviews, which can feel awkward. I have helped a lot of my customers with this.
I'm often asked, 'How do I get more reviews?' The simple answer is: Ask for a review.
No, really. When you know your customer is happy with your product or service, just ask them to leave a positive review. Here are some examples of how this can be done:
Face to Face or On the Phone: How to ask for a Google Review
'Would you mind giving my business a review on Google'?
'Would you mind sharing your experience in a Google Review?'
Follow up with an email
If the customer has not posted a review within a couple of days, send a follow up email that includes the link to your reviews (see below).
Hi Customer Name; that was a great meeting / phone call on X day. If you have time, could you please give a review of your experience?
Thanks,
Your name.
Ask for a Google Review in an Email
You may choose to send an automated 'ask for a review' email to your customers. If you are a high-volume transactional business, this kind of system may work well for you.
Here are some email messages that have worked well:
If you've been working with the customer for a few months or more:
Subject Line: A Favour
Hi First Name;
I hope you are doing well. Last X Month, we worked together on your Google Analytics and Google My Business accounts. I wanted to check in to see if you had questions or need anything explained. Please let me know.
Also, I wanted to know if you would be interested in leaving a review of my work on Google. It helps others know what they are getting into when/if they hire me. If you wish to leave a review, here's the link: [Insert your Google link – see 'Do Not Forget Your Review Link' section below]
As ask as part of a general email
The following review request was at the bottom of a mass email I received from a company I do business with (I do not know how well it worked):
'If you feel we have earned it, please leave us a positive Google review (they should have added their link), like our Facebook page or follow us on Instagram. Your recommendation and referrals are the greatest compliment we can ever receive. Thank you!'
Review request delivered with the product
This request came with a USB hub that I ordered from Sabrent:
Do Not Forget Your Review Link
Google makes it easy for you to ask customers for a review. You can get a link directly from your Google My Business homepage. Here's how:
Log into your Google My Business account.
Scroll down on the homepage until you see this: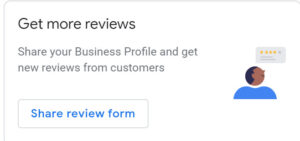 Click on 'Share review form' and this screen opens:

Copy and paste that link into your message. When your customer clicks the link, it goes directly to your review page. They don't have to look for where to place their review. Here's what your customer sees – all they have to do is write the review: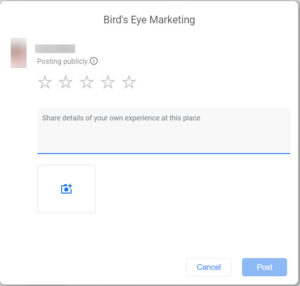 Respond to Reviews
When the reviews start pouring in, don't forget to respond to each one: The good, the bad, and even the man cold reviews!
Warning: Do not Compensate Customers or offer discounts and Get Fake Reviews
Google is on the lookout for fake reviews, good and bad. It's not unheard of for Google to penalize companies that engage in fake reviews or get caught compensating for reviews. I highly recommend you not do this!
Review Requests That Have Worked for You
If you have review requests that have worked for you, please share them in the comments below.