Google Ads extensions help push your ads to the top of the listings. Here's a guide to using them to get more clicks.
Getting your ad to appear at the top of a Google search can be very competitive. Making sure you get enough of your message in the ad to attract potential customers can be tricky. Using Google Ads Extensions can help on both fronts—at no extra cost.
Extensions provide enhanced ad content about your business, which in turn garners more clicks than ads without extensions.
What are Google Ads Extensions?
Extensions are additional information about your business that appear with your ads. Ads using extensions are usually larger because there is more content, and more content means more visibility.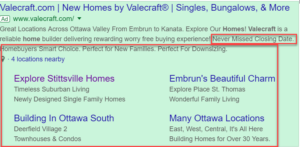 Benefits of using extensions
All businesses advertising on the Google Search Network should be taking advantage of extensions because:
There is no extra cost—Extension clicks are charged the same as ad clicks;
They are easy to set up;
They have an improved ad rank, which helps push your ad higher on the page listings; and
They tend to get higher click-through rates—there are more click opportunities.
When Extensions Show
Google doesn't guarantee extensions will show, but they show when:
Your ad is showing at the top of the page;
Your ad is considered relevant to the search term (a good Ad Rank); and
The extension is predicted to improve performance.
Extension Types
Google provides many extension types that help get more people to your website.
Extensions can:
Get people to buy at your location / store:

Location
Affiliate location extension
Call out

Get people to contact you:
Call
Message
Get people to go on your website and convert:

Site link
Call out
Structured snippet
Price

App extensions can even encourage downloads
Let's take a closer look at some of the most popular extension types.
The Big Four Extensions
These four extensions are among the easiest and most important, because they get people to either visit your website or contact your business directly.
Location Extensions
If your business attracts any kind of walk-in traffic, you need a location extension. This helps people find you by showing:
your address;
a map to your location, or the distance a user is from your location; and
a clickable call button
your hours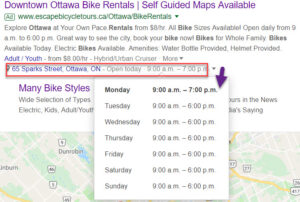 To create you Location Extension, you need a verified Google My Business listing, which you should have anyway. Simply link your GMB listing with your Google Ads account, and your location and phone information is automatically pulled into your location extension.
Call Extensions
Call extensions allow mobile users to tap the phone number in your ad and call your business. You're talking to a potential customer just like that!

The best part of Call Extensions is that it won't disrupt your sleep! You can set the hours they appear so the extension only works when you are available to take calls.
Site Link Extensions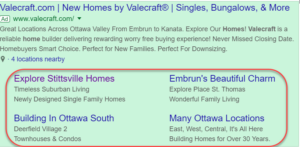 These are additional links to specific pages on your website. Users can search your ad with precision and go directly to your 'contact' page, a product page, the 'about' page, or any other pages on your site you think are useful.
If you're have a sale or offering something seasonal, you can even set the start and end dates for some extensions.
Call Out Extensions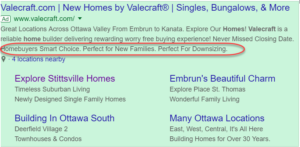 These are text extensions that provide detailed information about your business, products and services. These are not clickable links, so you can only input text, such as 24-hour service, warranty information, etc.
Other extensions available for your Google Ads
Structure Snippet Extensions
These are specific pieces of information you provide about your business, such as product names and prices, brands, and much more.
App Extensions
These extensions provide links to mobile ads.
Message Extensions
These extensions allow users to send a text message to your business. They are designed to be shown only to users on phones capable of sending and receiving text messages.
Price Extensions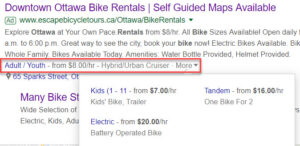 These extensions provide a direct link to your website. They can be used to:
Surface your offerings: Price extensions showcase your business' offerings in an interactive format users can scroll through.
Make shortcuts to conversions: When people click or tap a specific item on your price menu, they go directly to it on your site.
Increase your impact—with minimal work: You won't need to make new text ads or edit your old ones.
Promotion Extensions
These extensions are for special promotions, such as Mother's Day, Back to School, etc. They include two lines of text for promotional details and take users directly to your special offers page.
All of the above mentioned extensions are manual, meaning they need to be configured by the advertiser. However, Google also offers a suite of automated extensions.
Automated Extensions
These are extensions Google creates for you. There is no set up required.
https://support.google.com/adwords/answer/7175034?hl=en&ref_topic=3119079
 These are the automated extensions and when they will show:
Automated Call Extensions: When you indicate your goal is to have people call your business
Automated Message Extensions: When you indicate your goal is to have people message your business
Dynamic Site Link Extensions: When you indicate your goal is to get people to your website.
Seller Rating Extensions: This is a combination of information and reviews next to your AdWords ads, letting people know which advertisers are highly rated for quality service. Here's how it works:

Google gathers seller ratings from reputable sources that aggregate business reviews.
A business has 150 unique reviews and a composite rating of 3.5 stars or higher.
For most advertisers, you can check if you have a seller rating by following these steps:

Go to https://www.google.com/shopping/seller?q=example.com.
Replace "example.com" with your domain (without the www. prefix).

Uses Google Customer Reviews, and rating services data.

Google Ads Extensions Are Worth The Effort
As you can see, there a many different Google Ads extensions available. They are worth setting up because they make your ads larger and increase the likelihood of getting people to click through to your website. For a little extra time and no extra cost, you're getting a lot more bang for your buck.